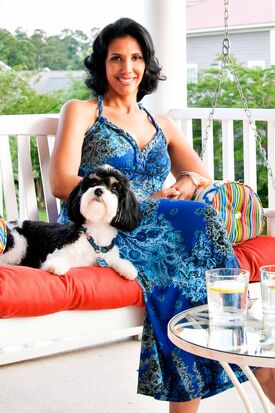 Wendy Davis - born June 30, 1966 in Baltimore, Maryland - is an American actress who portrays reporter Kimberly Mitchell in ABC's Scandal.
Personal Background
ترعرعت في بلدة صغيرة خارج للتو من بالتيمور، ماريلاند دعا Joppatowne حيث حضرت Joppatowne في مدرسة ثانوية. حضرت جامعة هوارد حيث حصلت على شهادة البكالوريوس في المسرح. ويندي عضو في دلتا سيجما ثيتا sority. بعد الانتهاء من المدرسة انتقلت على الفور إلى لوس انجليس لممارسة مهنة لها.
Wendy has one child with ex-husband Jacobi Wayne. She and her daughter live in Charleston, South Carolina, where Army Wives is filmed.
Career Background
Wendy's first big break was on the television series High Incident (1996), DreamWorks SKG's first one-hour series. She was hand-picked by living legend Steven Spielberg to star in the series. She is best known for her role as Lieutenant Colonel Joan Burton on the hit Lifetime Television series Army Wives.
TV Recurring Roles
TV Guest Roles
Film Roles
Stacy in Mother Ghost (2002)
Janice Dickerson in Taking Back Our Town (TV movie) (2001)
Roni in Return to Two Moon Junction (1995)
Trivia
When she is not working, she loves helping others by teaching acting classes at The Los Angeles Actors Center. She is dedicated to training and developing actors to work professionally in film and TV.
Received a Drama Logue Award for her performance in the play Talking With.
Gallery
References