Shonda Rhimes posted on twitter on May 8, 2014 that ABC ordered a fourth season of Scandal.[1] The season premiered on September 25, 2014 and ended on May 14, 2015. It was broadcast on Thursday nights at 9|8c on ABC.
About
The season continues the story of Olivia Pope's crisis management firm, Olivia Pope & Associates, and its staff, as well as staff at the White House in Washington D.C. Season four had nine series regulars, all returning from the previous season, out of which eight are part of the original cast of ten regulars from the first season.
Season News
ABC announced on May 8th 2014 that they were renewing Scandal for a fourth season. [2]
Columbus Short did not return for the fourth season due to personal reasons.
Portia de Rossi joined the cast this season. [3]
The first table read for this season was on Thursday, July 24, 2014. [4]
Filming for the season began on July 28, 2014 [5] and ended on April 28, 2015.
After filming the last scenes of the season, the cast watched the Season Four gag reel.
Season Overview
The season focuses on Olivia's return to Washington, D.C., after spending two months relocated on an island off the coast of Zanzibar with Jake, and how her absence has affected the people around her.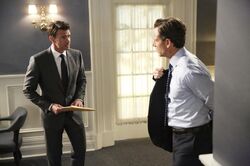 The first half of the season focuses on Jake's arrest for the death of Jerry Grant after Rowan forces Tom to name Jake as the operator. Rowan continues to try to make everyone believe Jake is guilty, which inspires Olivia to find out the truth for herself. After forcing Tom to reveal Rowan as his operator, Fitz, Jake, and Olivia make a plan to arrest Rowan. Unfortunately, the plan fails, causing Rowan to shut down B613 and start eliminating B613 agents. Olivia tries to kill Rowan when she confronts him, but he manages to flee.
The season also focuses on how Olivia Pope & Associates has been closed, which has led Abby, Huck, and Quinn to seek alternative employment.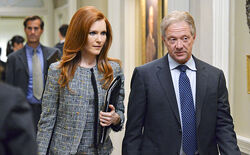 Abby is now the White House Press Secretary, and is struggling with gaining the respect of Cyrus and Fitz, because they choose to demean her by calling her "Red" instead of Abby. Later in the season, Abby finds herself stressed even more by the presence of her abusive ex-husband, who has been nominated for Virginia State Senator, and she enlists Leo Bergen to help ruin his campaign. Huck is working at an electronic shop and is refusing to come back to the firm, but he eventually does. In the past two months, he has been watching his estranged family, but he has not been allowed by his former wife Kim to see his son, Javi. However, much to Kim's dismay, Huck and Javi begin to form a friendship by playing video games together.
Quinn has stayed in contact with both Abby and Huck, in addition to trying to find Olivia. During the first part of the season, Quinn works on a case for Olivia's friend, Catherine, from law school, in which Catherine's daughter ends up murdered and Catherine's grief-stricken husband commits suicide. The case takes an unexpected twist when Quinn discovers that the killer of Catherine's daughter, Kobiak, has been working with both the head of the RNC, Elizabeth North, and Vice President Andrew Nichols. Their plan is revealed as an attempt to start a war in West Angola. Elizabeth North and Andrew Nichols then engineer the kidnapping of Olivia, anticipating that Fitz will do anything to save her. Predicting correctly, Nichols then successfully convinces Fitz to give the okay to go to war with West Angola.
Mellie struggles with the death of her son, Jerry. She finally comes in terms with her loss after finding out that Jerry was murdered due to being deliberately exposed to bacterial meningitis rather than contracting the disease naturally, and she chooses to form an alliance with Elizabeth North. Later, after having an affair with him, Mellie discovers the true nature of Nichols, who threatens to tell the press.
Cyrus starts sleeping with Michael, a male prostitute, who is in the pay of Elizabeth. After finding out that Michael has been leaking information from Cyrus to Elizabeth, Cyrus calls Olivia for help. When pictures of Cyrus and Michael are leaked, the couple come up with a plan to get married as a way of handling the crisis.
While Olivia is being held captive, the team that Nichols hired has an internal issue leading to their ringleader getting killed by Gus, one of his employees. Gus then opens a black-market auction for Olivia, and terrorists as well as foreign nationals start to bid for her. Olivia manipulates the auction to gain the upper hand over the kidnappers, but is unable to stop the auction and is sold to Russia. Stephen Finch, a former Pope & Associates "gladiator" gone for three seasons, returns to rescue Olivia in Russia, where she is safely brought back to America. Shortly after, Nichols suffers a massive stroke, believed to be caused by a collaborative effort between Mellie and Elizabeth. Olivia is visited by Fitz, but reveals her disgust in his decision to go to war to bring her back and drives him away.
---
Cast
Main Cast

Supporting Cast

Recurring Cast
Episodes
01 | 48
02 | 49
03 | 50
04 | 51
05 | 52
06 | 53
07 | 54
08 | 55
09 | 56
10 | 57
11 | 58
12 | 59
13 | 60
14 | 61
15 | 62
16 | 63
17 | 64
18 | 65
19 | 66
20 | 67
21 | 68
22 | 69
Cast Promotional Photos
Promotional Photos
Behind the Scenes
DVD
The Scandal Season 4 was released in region one August 11, 2015 it was then released in region two November 2, 2015. A few weeks later, the Scandal Season 1-4 DVD box set was released in both region one and region to.
Special Features
Extended Finale Episode: "You Can't Take Command"
Extended Episode: "No More Blood"
The Fixer: With Kerry Washington the cast of Scandal - Learn What It Takes To Wear The White Hat
Bloopers

Season Four Bloopers: To celebrate the release of 'Scandal: The Complete Fourth Season' on DVD, ET Online has your exclusive first look at the laugh-packed blooper reel.
Season Four Finale Live Tweet
On the Evening of May 14, 2105 after the Paley Center Panel in New York. The Scandal cast gathered at Twitter TV headquarters to live tweet the Season Four Finale "You Can't Take Command". All of the cast were in attendance and were live tweeting the whole episode.
Social Media Marketing
The cast and Crew of Scandal are on Twitter and Facebook, every Thursday a live tweet session is held with the cast and their followers.
Behind the Scenes Photo
The cast and crew of Scandal often post selfies with other cast members, behind the scenes pictures and episode sneak peeks.
Season Four Trailer
References
Community content is available under
CC-BY-SA
unless otherwise noted.