"

I am many things, stupid is not one of them.

"
Olivia Carolyn Pope worked at the White House as a communications director. She later quit the job and founded her own consulting firm Olivia Pope & Associates, which is now renamed "Quinn Perkins and Associates" after being given to Quinn. She was the Chief of Staff of President Mellie Grant before her resignation and Command of B613 before it was dismantled.
Olivia Pope is the best fixer in D.C. A title earned first by getting an underdog candidate elected President, she's kept it up by being the invisible hand behind problems that seem to disappear as quickly as they came. She doesn't just fix problems, she fixes people. They come to her at their lowest moment, on the worst day of their lives. Olivia takes on the biggest scandals of the era, all the while trying to hide the fact that she's one of the key players at the center of it all. This is particularly embodied by her forbidden love affair with Fitz otherwise known as Fitzgerald Grant, the President of the United States.[1]
History
Olivia Carolyn Pope was raised by her parents Maya Lewis & Eli Pope (aka Rowan Pope). Olivia attended all of the best boarding schools: Saint Anne's & Surval Montreux. She then attended Princeton where she received her undergraduate degree in Political Science. She moved on to Georgetown Law where she met Cyrus for the first time. She was made to believe that her mother died in a plane crash when she was twelve years old. After her mother's death, she never returned to her family's home. She went to boarding school, then Law school, and finally, got a job working on Fitz's presidential campaign. She later quit the job and founded her own firm as a crisis manager.
In 2006, Olivia had weekly Sunday dinners with her father, Eli Pope, she agreed to do dinners with him so he'd pay for her law school tuition. They briefly stopped having dinners when Olivia learned what her father really did for a living. But she returned for a few more dinners and introduced Eli to Edison Davis, her fiancé. After Edison was in a car accident that Eli arranged, Olivia stopped having dinners with him altogether. Years later, when Jake was thrown into the hole because of disobeying an order from Rowan, Olivia wanted her father to release Jake from the hole. She made a deal with him to resume Sunday dinners if he released Jake. Jake was released because of the deal and they started having Sunday dinners again.
When Olivia was twelve years old, her mother "Maya" was on board Flight 522, en route to London when it went down. Believed to be an engine failure, Olivia believed that her mother died in the plane crash.
Olivia seems to have been mentored both by Cyrus Beene and Verna Thornton, molding her into who she is today.
She worked as a media relations consultant on Fitz's campaign. Her professional relationship with President Fitzgerald Grant III led to an extramarital affair, which she had intended to end after Fitz' inauguration into office. After he won the election, she became his Assistant for Communications, also known as The White House Director of Communications. They continued their relationship, but just as they revealed their feelings for each other, Olivia realized that Mellie, Fitz's wife, was aware of the affair. Olivia then resigned from the White House and formed Olivia Pope & Associates. (Happy Birthday, Mr. President)
Along with Cyrus, Mellie, Verna, and Hollis Doyle, Olivia was part of the election-rigging conspiracy Defiance, which stole the election and put Fitz into the White House. (Beltway Unbuckled)
Olivia and Verna, with Huck's help, saved Lindsay Dwyer after Hollis Doyle used Becky Flynn to frame Lindsay for the bombing of Cytron, which killed Lindsay's boyfriend, Jesse Tyler and six of his fellow co-workers at Cytron. (White Hat's Off, Happy Birthday, Mr. President & Truth or Consequences)
Over two years later, Olivia sent Harrison Wright to hire Lindsay Dwyer now Quinn Perkins to be the newest associate at Olivia Pope & Associates. Olivia and Huck were the only two of the associates that knew who Quinn really was. (Sweet Baby)
Main article: Olivia Pope's Kidnapping
Olivia was kidnapped and held captive by Andrew Nichols with the intent to start a war against West Angola.
Future
In the future, a portrait of Olivia is hanged inside the National Portrait Gallery among the Presidents and First Ladies of the United States. The placing of this portrait indicates she might have become President of the United States sometime after Mellie.
Relationships
She was Edison's girlfriend and ex-fiancé; they lived together in Georgetown from 2002 to 2006. They began seeing each other again years later. Their present day relationship grew rocky however, as she refused to open up to Edison about the relationships she had while they were apart. Olivia wants to keep her past romantic and sexual relationship with Fitz Grant from him, but Edison is persistent, growing increasingly frustrated with the emotional stonewalling. Edison proposed to Olivia for the second time, but Olivia finally turned down the proposal, realizing she wants a difficult, painful love rather than a normal one.
Olivia first met Fitz Grant when Cyrus called her in to help with the campaign. Their meeting is shown in the flashbacks of the season one episode The Trail. Not long after she joined the campaign, they began to develop feelings for each other. As much as Olivia wanted to be with Fitz, she knew an affair could mean political suicide for him; yet, Fitz is persistent. After he's elected, Fitz told Olivia that he loves her. The sexual tension between them continued, even after she left the The White House once Mellie discovered the affair.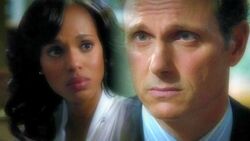 The two of them had been on and off with their relationship until they officially became a couple later when Fitz divorced Mellie. Unfortunately, not so long after they started dating and made the relationship official, things became ugly between them. When Fitz proposed Olivia, she turned it down at first but accepted it after. Then, after she decided to release her father from prison, she gave the ring back to Fitz. However, Fitz forgave Olivia about releasing his son's killer from prison and moved her into the White House. Not so long after, the relationship ended with Olivia feeling like she's trapped in the White House and not wanting that life anymore. She then left the White House and Fitz.
They rekindled the relationship when Mellie was about to become president and Fitz was about to leave the White House but, things between them ended again as Fitz had to leave to Vermont for his presidential library.
Fitz came back to D.C. when Rowan told him that Olivia has gone over to the dark side of the power. He tried to "fix" Olivia which she refused. He then stayed at D.C. and ran the Fitzgerald Grant Institute together with Marcus Walker while trying "fixing" Olivia. After Olivia resigned from the White House Chief of Staff, they reconciled and worked on a few cases together. In the series finale, after the two of them exchanged their "Hi", it is indefinite whether they get back together or not as things can be interpreted in many ways.
Olivia met Jake ten months after the death of Verna Thornton. Their relationship sparked up fast and has been on and off throughout the series since then. The relationship between the two of them is really complicated as Olivia tends to go back and forth between him and Fitz. Jake knows Olivia more than she knows herself. Jake knows the dark side of her but he can look past it and still loves or be there for her no matter what. Olivia is very open and vulnerable when she's with Jake. After Fitz was re-elected for his second term, she went to a secluded island with Jake for two months. They stayed as girlfriend and boyfriend after they came back from the island and until Olivia was kidnapped. Olivia was in a bad place after the kidnapping and didn't want to see Jake or Fitz as she considered them as her past. After they've successfully put Rowan in jail, Jake told her that he is in love with her but if she loves Fitz, she should just be with Fitz and let go of her.
She then went to be with Fitz but things didn't work out with them and she left Fitz. She hooked up with Jake six months after the breakup and things seemed just physical between them until Jake got engaged to Vanessa. After Jake told Olivia that Vanessa is just a mark and he is still in love with her, they kissed and spent a night together. Jake then admitted to Olivia that he doesn't want to marry Vanessa. When Jake said he wants to be with her and asked if she wants to be with him too, Olivia nodded and kissed him. Olivia suggested that Jake jilts Vanessa at the wedding in order for them to be together but Rowan already knew their plan and threatened Olivia that if Jake doesn't marry Vanessa, he would kill him. Jake then married Vanessa. In Over A Cliff Jake is thrown in jail after the existence of B613 is brought to life, leading to the assumed end to the Jake-Olivia relationship that started in a coffee shop.
After she was released from being kidnapped, she said to Cyrus that she didn't want to see or hear about Jake or Fitz anymore because she considered them as "her past", she now had to move forward and she tried moving forward by going to the bar, where she met Russell. The two of them had sexual relationship until she found out that he was a B613 agent who stabbed Jake almost to death in her firm as Rowan, her father, ordered him to. He is unsuccessful and is shot by Rowan, unbeknownst to Olivia, so she will bring him to the hide out where Jake is also being cared for. Because Jake is either unconscious or too tied up and weak to speak he cannot name Russell as the hitman. Russell takes another opportunity to kill Jake but is still thwarted and not found out. Olivia soon made the connection that he is B613 when info from the hideout gets back to Rowan. She confronted him with a gun to his head in the middle of what he thought was going to be foreplay.
Olivia made her appearance on Curtis' talk show to push the "Vargas Bill" and the two argued about free college on Television. Curtis asked her out to dinner later on. Olivia didn't take up the offer at first but eventually met Curtis at a bar, took control over, gave him the instructions of where to meet her at a hotel and then, left the bar. The two continued seeing each other until Curtis came clean to Olivia about how he made a mistake with her, thinking she had "human qualities". He told her he doesn't like her and he is only attracted to her because of her beauty and her power. He then broke it off with her. Pryce was later killed by Lucy Riccio at the order of Jake Ballard
Trivia
Olivia paces in circles when she is troubled by something she considers a serious problem. She does it in perfect circles when she's really worried.
The address for Olivia Pope and Associates is 1970 K. Street, Washington, D.C., 2006.
Olivia's date of birth is inconsistent throughout the series. In earlier seasons, it was implied that she was born in 1979 around September but in the episode 7x12, it showed that the birthday is January 31, 1977 which is also Kerry's birthday.
Olivia was on the swim team in high school.
Olivia has one rule when it comes to her clients; "Do not lie. They lie, all bets are off!".
The character of Olivia Pope was originally named Olivia Price.
She is the only character who appeared in every episode of the series.
Both Gabrielle Union and Taraji P. Henson auditioned for the role of Olivia Pope.
The character Olivia Pope was almost played by the actress Connie Britton except Shonda and the team wanted a black lead.[2]
Olivia Pope was named as one of the top ten best-dressed characters of the year in 2013 by Vanity Fair.[3]
Olivia knows 18 languages, including Spanish, Farsi, Russian, Swahili, Cantonese and Urdu.
The character is inspired by the professional life of real-life crisis management consultant Judy Smith.
The final scene of the series suggests that Olivia Pope eventually became the President of the United States at a time in the future since her portrait is displayed on the second floor of the National Portrait Gallery, which displays only the portraits of the Presidents of the United States of America.
Gallery
→ See and enjoy 1,452 pictures of Olivia Pope at Images of Olivia Pope.
Quotes
Videos
→ Watch more videos of Olivia Pope at Category:Videos of Olivia Pope.
Appearances
References