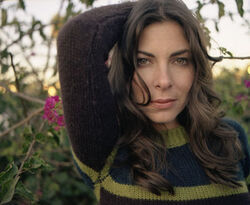 Mina Badie - born Mina Badiyi - is an American actress who portrays Assistant US Attorney Jane Powell in ABC's Scandal.
Personal Background
Edit
She is the daughter of Reza Badiyi and actress/screenwriter Barbara Turner.
Mina studied acting at Oxford's British American Drama Academy.
Career Background
Edit
Rebecca Wease on The Eleventh Hour (2009)
Nurse Polly Leonard '63 on Cold Case (2007)
Susan White on The Closer (2007)
Film Roles
Edit
Peggy in Greenberg (2010)
Donna in Roger Dodger (2002)
Betty the Waitress in Road to Perdition (2002)
Monica Rose in The Anniversary Party (2001)
She is the younger half-sister of Jennifer Jason Leigh and Carrie Ann Morrow; and the older half-sister of Alexis and Tashi Badiyi.
Her step-mother is Tara Harley.
References
Edit