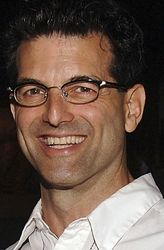 Mark Harelik – born June 5, 1951 in Hamilton, TX - is an American actor, who portrayed Press Secretary Marvin Colgate in the first season episode Grant: For the People.
He is married to actress Spencer Kayden, and they have a son together, Haskell.
Mark is known for many recurring guest appearances – including the movie Election starring actress Reese Witherspoon. Some of the shows he's had recurring roles are include: Boy Meets World (1999), Will & Grace (2004), Prison Break (2007) and The Big Bang Theory (2007-2008). Most recently he's had recurring roles on are Awake (2012) and Getting On (2013-2014).
He's had several guest appearances on many notable shows; including: Desperate Housewives (2005), Six Feet Under (2005), Grey's Anatomy (2006), NCIS (2006), Bones (2006), The Closer (2006), The Good Wife (2011), Castle (2011) and The Mentalist (2014).
External Links
Click on any or all of the links below to view more information about Mark Harelik and a full filmography.