Joshua Charles Malina is an American actor who portrays David Rosen on ABC's Scandal.
Personal Background
Josh's parents are Fran & Robert Malina; they were founding members of Young Israel of Scarsdale in New Rochelle where he grew up. His father was an attorney, investment banker and Broadway producer.
He graduated from Westchester Day School from 8th grade and attended Horace Mann School in Riverdale, New York, graduating in the class of 1984. He went on to graduate in 1998 from Yale University with a B.A. in Theatre Studies.
He met his wife, Melissa Merwin, a costume designer, in 1992 through his friendship with his sister and brother-in-law Jenny & Timothy Busfield (former West Wing (1999) cast mate); Jenny predicted the marriage two years before the couple ever met. He and Melissa married on December 1, 1996; they have two children, a daughter, Isabel and a son, Avi.
Josh came in sixth (out of 1,191 players) in the first event of the 2008 LA Poker Classic at Commerce Casino, for a win of over 11 thousand dollars.
Josh made his acting debut as an understudy in the Broadway production of Aaron Sorkin's A Few Good Men and later moving into an onstage role. He had contacting Sorkin initially at the suggestion of his parents when he first went to New York City, as they knew Sorkin was a high-school classmate and friend of Josh's cousins; the cousins in turn , had spoken highly of Josh to Sorkin, who suggested he audition for the play.
He has joked in interviews that Sorkin's casting him in subsequent productions may owe to the fact that he once performed the Heimlich maneuver on Sorkin, saving his life, when the writer began to choke while eating a hamburger at a bowling match with the cast of the play. He has since appeared in nearly every Sorkin film and TV show (the exceptions being Charlie Wilson's War, The Newsroom, Studio 60 on the Sunset Strip, and The Social Network).
Career Background
He is most known for portraying Will Bailey on the hit NBC series The West Wing and Jeremy Goodwin on Sports Night.
From 1998–2000, Malina starred as character Jeremy Goodwin on Sorkin's Sports Night, a show that attracted him from the moment Sorkin sent him the pilot script. The Goodwin character began as a research analyst, but was promoted to associate producer by the second season, creating a larger role for Malina. The critically acclaimed show was unable to find a large fan base and was canceled after two seasons, with some critics saying the show's troubles were exacerbated by having to share Sorkin's time with his concurrent project on rival network NBC, The West Wing. The actor counts Sports Night among his most popular roles and noted on the occasion of the show's 10th-anniversary DVD release, "If my straw poll of who stops me to say what is any indication, West Wing may only slightly edge Sports Night."
Following the panned Hank Azaria vehicle Imagine That – where both he and Azaria were described as "talent going to waste" – Malina played Will Bailey on The West Wing from 2002 to 2006. His character initially was perceived by the public as an attempt to replace departing series star Rob Lowe, although Malina said in numerous interviews that the two actors and characters were too dissimilar to be viewed as anything but a change. During his tenure on The West Wing, Malina was known to the rest of the cast as a tireless prankster. It is said he coated telephones with Vaseline and reset producer Alex Graves's iPod menus to Mandarin Chinese. He stole some of Bradley Whitford's letterhead stationery and used it in an elaborate prank. At the suggestion of co-star Janel Moloney, Malina sent a $200 Valentine's Day bouquet to season-six newcomer Jimmy Smits that included a card crafted on Whitford's stolen letterhead stating: "Jimmy, You are a delight. I enjoyed every moment we've had together. Be my Valentine." Following the end of The West Wing, Malina campaigned for the leading role of Danny Tripp in Sorkin's next TV project, Studio 60 On the Sunset Strip, but the role went instead to Whitford. When the show was cancelled in its first season, Malina was teased by some in the industry who suggested he was Sorkin's good luck charm, but he pointed to Sorkin's upcoming film Charlie Wilson's War as evidence his friend could succeed without him.
In 2007, Malina became one of the four stars of the short-lived ABC dramedy Big Shots. His character, Karl Mixworthy, was a pharmaceutical company executive juggling a wife and a mistress, who meet when the jilted lover tries to expose him to his wife but befriends her instead.
Malina is a co-creator and producer of Bravo's cable TV series Celebrity Poker Showdown. In private life, he is an avid poker player, having played with Sorkin while on Broadway, used poker winnings to pay his rent early in his career, and organized a cast-and-crew game that lasted the full duration of Sports Night and occasionally delayed the start of shooting. The idea for the show came from a weekly high-stakes poker game hosted by Hank Azaria, which Malina and friend Andrew Hill Newman attended.
Joshua Malina and Melissa Merwin
→ See and enjoy 185 pictures of Joshua Malina at Images of Joshua Malina.
Social Media Set Photos
Videos
→ Watch more videos of Joshua Malina at Category:Videos of Joshua Malina.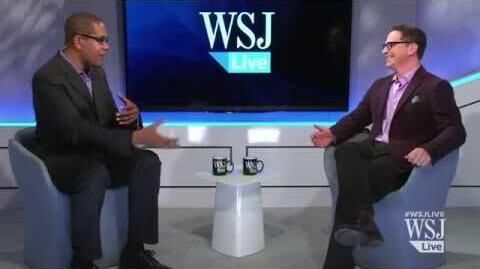 External Links