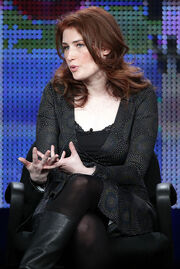 Jenna Bans is an American writer and producer, who serves as one of the co-executive producers and writers for ABC's Scandal.
Brief Background
Jenna Bans is a producer and writer, known for Desperate Housewives (2004), The Family (2016) and Grey's Anatomy (2005).
Career Background
Jenna has been working with Shonda Rhimes, creator of Scandal, and Betsy Beers, Shonda's right-hand woman since she began working with them on Grey's Anatomy in 2009 and on Private Practice in 2007.
She got her start when she was hired as a staff writer for Jerry Bruckheimer's cancelled action series Fearless. Jenna quickly became a part of the crew on Desperate Housewives as a Story Editor in 2004; she stayed with the series until the end of it's third season. She created the short-lived ABC series Off the Map working with fellow Scandal Executive Producer, Mark Fish, which was produced by Shonda's production company Shondaland.
Jenna's writing credits include not only Scandal but writing five episodes on Grey's Anatomy, one episode on Private Practice and ten episodes on Desperate Housewives.
Scandal Writing Credits
Season 1
Season 2
Season 3
Season 4
Trivia
In 2006 she was nominated for a Writers Guild of America award for the screenplay to the Desperate Housewives episode "Next" and in 2007 she received another nomination for the episode "It Takes Two". She co-wrote both episodes together with fellow Desperate Housewives writer Kevin Murphy.
External links