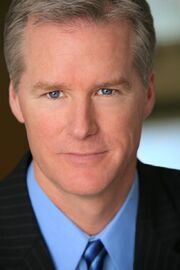 Eben Ham - born February 12, 1962 - is an American television and film actor, who portrays Tanner Shaw on ABC's Scandal.
Career Background
Eben has appeared as a number of roles in major television shows; including: Days of Our Lives (2013), Rules of Engagement (2013), How I Met Your Mother (2012), All My Children (2011), Criminal Minds (2010), Two and a Half Men (2010), Nip/Tuck (2009), Life (2007), Life with Bonnie (2003), Step by Step (1995) and Star Trek: The Next Generation (1990).
He has made no known film appearances.
External Links
Gallery