Beltway Unbuckled is the fourth episode of the second season of Scandal, and is the eleventh overall.
Plot
A missing college student, Jenny Nystrom, turns up dead after it is revealed that she is the anonymous Beltway Unbuckled blogger who has scandalously slept her way through Washington D.C. A Kyrgyz diplomat pops up on the suspect list which causes trouble for Olivia when she's pitted up against The White House... again!
Also at The White House President Grant needs to keep peace with the Kyrgyzstanian government to use their airspace for the upcoming war against East Sudan. But things get dicey when Olivia asks for a favor. And Mellie causes a scene when she gets involved with a diplomatic scandal (no pun intended).
Meanwhile, the relationship between Abby and David deepens, and he gets a step closer to figuring out the Quinn Perkins mystery.
Scandals
Olivia Pope & Associates:
The team fight for the rights of a murdered girl
The still on-leave David Rosen sleeps with Abby Whelan for information on Quinn Perkins and Olivia Pope
White House:
Mellie Grant wants to be more involved in the government.
Fitz & Cyrus discuss using the Kurkistan airspace when ready to attack in East Sudan.
Recap
Senator Edison Davis introduces Olivia to two of his constituents, Janet & Peter Nystrom. They are the worried parents of Jenny Nystrom, a pretty college student who has been missing for several days. The supposedly innocent girl is actually the author of a blog called "Beltway Unbuckled" where she describes her sexcapades with various political heavyweights. There hasn't been a new post since the day Jenny went missing. There's a chance she's an unidentified girl who was hospitalized in Rhode Island. That hope is extinguished as Olivia identifies a dead body found in a ditch as her client's missing daughter.
Harrison
and
Quinn
learn the make and model of the vehicle Jenny was riding in before she was left for dead in that ditch. It belongs to a Kurkistani diplomat named Alexander Lavich. The guy is basically untouchable b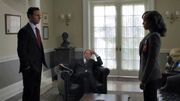 ecause of diplomatic immunity. The only they can possibly get to him is if the President of the United States gets the Kurkistan government to revoke his diplomatic immunity. So Olivia heads off to the White House to make that happen. Too bad,
Fitz
is less than cooperative when he walks in on her meeting with
Cyrus
.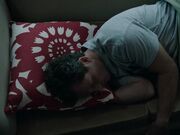 Mellie doesn't want her hubby sleeping in the baby's nursery because he's sweating on the sofa in the room. Fitz doesn't have much of choice since that's where he's been sleeping lately. If only he could leave for the upcoming G8 Summit sooner. But he can't leave the country he runs because his wife wants him to. Mellie is tired of being treated as a second-class power player by both Fitz and Cyrus. She wants to be heard, Olivia puts Jenny's parents in front of TV cameras to gain public sympathy.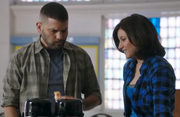 Huck
meets a girl, who introduces herself as
Cocaine
, at his AA meeting.
David Rosen
is sleeping with
Abby Whelan
of
Olivia Pope & Associates
. It's a conflict of interest of epic proportions. Actually, it's in David's "best" interest if he wants to get info about the Quinn Perkins trial fiasco. He also happens to like Abby.
Alissa
– David's assistant – has dubbed him "007" as she helps him uncover phone records that d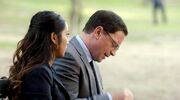 etail calls from Quinn's old boyfriend to the head of a security at a company run by one of the president's biggest supporters—powerful energy man
Hollis Doyle
.
David pays a visit to Hollis to ask about the small software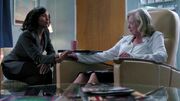 company in California where Jesse Tyler, Quinn's old boyfriend, worked. He leaves with very little information. In other news, Olivia stops by the hospital where
Supreme Court Justice Verna Thornton
is secretly receiving cancer treatments. She even turns off her phone as a show of support for her old friend. These two ladies go way back, which is why Verna has no problem telling Olivia that she's making a mistake in pushing Fitz away.
Olivia receives a call from the White House, but it's not from Fitz or Cyrus. It's
Mellie
, she's found her way to be heard! With the aide
Kimberly Mitchell
she gets heard loud and clear now after Olivia helps her join the pr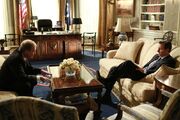 otest for justice for Jenny Nystrom outside of the White House; she's not there in any official white house capacity; she's just there as a fellow mother.
Fitz
can't help but let out a defeated laugh about how the women in his life are political geniuses. He can't believe they actually worked together.
Fitz has an enti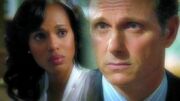 re restaurant cleared so he can tell Olivia that Lavich is being deported. It's the best he could do, he tried to get Kurkistan to left Lavich's immunity but they wouldn't. Fitz ends their meeting by letting the love of his life know that he's letting her go…just like she asked! Olivia falls apart and sits in the restaurant balling.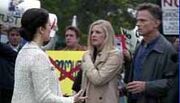 Jenny's father is livid that the man who killed his daughter is going home to live out the rest of his days in a palace. Huck knows the guy has vengeance on his mind. That's why he kills Lavich first. He admits to his AA group that his relapse into "whiskey drinking" felt really good. At the office, Edison tries to convince Olivia that she did good work on the case. She's not buying his declaration that everything is going to be okay. Other associates are also unsure of things. Harrison manages to calm an agitated Quinn, but Abby is tired of being kept in the dark by all of Olivia's secrets.
Abby isn't crazy about the secrets David has been keeping from her either. That's why she breaks into his apartment to see his wall of investigation. She soaks it all in for a while before later sneaking up on David in the shower. Surprisingly, she wants to add a few of her own theories to his wall of crazy. David knows that Hollis Doyle's company is somehow involved in the murders of the seven employees of Cytron. But he – David – believes the conspiracy is much bigger. He may be right…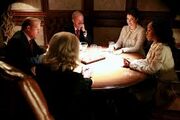 Hollis Doyle takes a seat at a table with several open chairs. The people he is meeting with on this mysterious night arrive one-by-one. First Supreme Court Justice Verna Thornton takes a seat at the table, followed by Mellie Grant and Cyrus Beene and the last member of the group is none other than Olivia Pope… SHOCKER! They have joined together to discuss the David Rosen issue as the president flies off to the G8 Summit thousands of miles away.
---
Cast
Main Cast

Recurring Cast

Guest Cast
Credits
For a full list of cast/character credits in order as they appeared click here: Beltway Unbuckled Credits
Quotes
Mellie: Tell the press the pregnancy is making me toss and turn so you're sleeping in another bed so that I can be more comfortable. Tell them that you've been staying up late in bed trying to come up with ways to make America safe and democratic and free and you don't want to disturb my pretty little head with all that thinking. Or tell them that I don't want spend my nights sleeping with a man who gets erections in his sleep dreaming about Olivia Pope. Your choice, I don't care, relax I'm kidding… for now!
Trivia
Eve Gordon and Todd Waring who portray husband and wife Peter & Janet Nystrom are husband and wife in real life.
Gallery
Promotional Photos
→ See and enjoy 19 pictures from Beltway Unbuckled at Images from Beltway Unbuckled.
Videos
Promotional Video
References